Fluoroalkyl alcohols TFE and HFIP possessed particular properties (acidity, polarity, high H-Bond donor, …), and allowed to perform clean and selective reactions without external promotor (Lewis acid, or Brönsted acid).
Hexafluoroisopropanol (HFIP) and trifluoroethanol (TFE):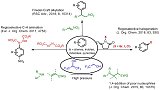 Fluorous phase (perfluoroethers) :
Perfluorinated solvents have the particularity of dissolving large quantities of gases such as oxygen and CO2. Although the exploitation of the solubility of oxygen in these solvents has been widely developed in the literature, the exploitation of the very high solubility of CO2 has not been studied at all.
Thus, we have shown that the opening reaction of epoxides into cyclic carbonates can be effective in perfluorinated solvents and in particular in the HydroFluoroEthers (HFE), the HFE-7500. The reactions can be carried out under mild conditions under a CO2 atmosphere at room temperature (Chem Commun. 2015, 51, 12736).